iMCC Panel
Project Engineering
CSE Solutions (Intelligent Motor Control Center) has been designing and implementing top-quality engineering solutions in many industries for decades by utilizing a proven project management approach that embraces proprietary methods & standards with tailored solutions, as per our client's requirements. Recognized system integrator RcSI Rockwell Automation India
We are compliant with TUV ISO 9001:2015, which ensures our stringent quality standards and are audited periodically to ensure continuous improvement.
Our rigorous, disciplined project approach to new designing new processes & systems ensures effective solutions. Flameproof and Explosion Proof Panels
We at CSE Solutions (Motor Control Centers) carefully and thoroughly outline detailed plans for each project, by setting milestones for each stage and communicating closely with our client on every step of the way until the project has been completed to their satisfaction. Project Engineering Services Manufacturer in India.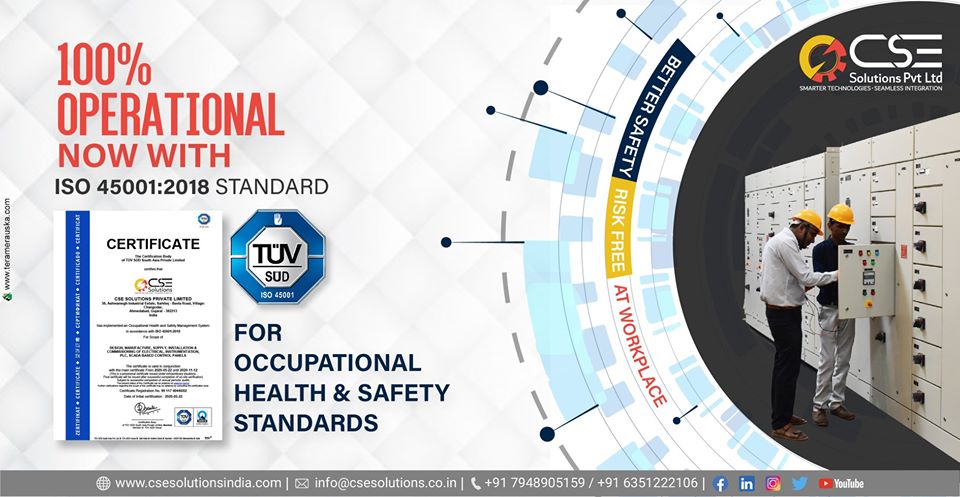 Detail Engineering Services Of Control Systems Engineering
CSE Solutions provides detail engineering services in India for the full array of electrical control panels, instrumentation control panels and Control Systems Integration India.
Our detail engineering services include:
Creating Single Line Diagrams.
Generating Bill of Materials (BOM).
Designing control panel's internal as well as external General Arrangement Schematics.
Composing wiring schematics (with terminal details) of electrical and Instrumentation control panels in India.
Designing Control System Architecture in India for centralized and distributed networks.
Creating I/O list based of P&ID diagrams and electrical load list.
Contriving Function Logic Diagram based on control philosophy as per ISA-5.2-1976 (R1992) standards.
Formulating Logic Flow Chart based on function design specifications.
Programming the control logic for PLC control systems / DCS control systems as per IEC 61131-3 languages.
Developing high-performance graphics in India for the visualization of systems as per ISA 101 standards.
Preparing cable schedules and instrumentation loop diagrams.
Training
At CSE Solutions (Control Panel Manufacturer India), we recommend that our clients should provide operator training on the processes and equipment supplied as well as train the maintenance staff on basic troubleshooting. We support to this, we offer a comprehensive training program, structured and tailored as per our client's specific requirements and it generally includes:
Providing maintenance staff with detailed knowledge about panels on how to diagnose faults, plan maintenance and in case of faults how to quickly rectify them and make the system return to full performance.
Giving technical support our staff in-depth knowledge about panels on how to modify the system to achieve desired changes in functionality.
Providing management with a summary of the systems available with an explanation of plant operation and data acquisition.
Remote Support
At CSE Solutions (Electrical Control Panel Manufacturer India), we understand how frustrating, painful and expensive it can be to wait for a technician to arrive and resolve a problem with your control system. CSE Solutions provides remote support where we can provide the necessary assistance without stepping foot into our client's plant, saving them both- time and resources. By working with our clients remotely, we can develop a secured remote connection so that our engineers and technicians can quickly provide the first level of support when our clients need it the most.
On site – start-up and commissioning
At CSE Solutions (Automatic Power Factor Correction Panels), we understand that onsite support for commissioning is a crucial activity and hence we provide a skillful team of experienced engineers to ensure that the start-up and commissioning of our system at your plant is smooth.
Our start-up team is capable to manage and reduce unforeseen risks of performance problems and equipment failures. Our team follows standard processes to ensure that the necessary electrical panel manufacturers, mechanical and environmental criteria have been met before commissioning.
Our experienced field service professionals work with our clients to check all equipment and systems so that the equipment performs safely and efficiently.
Annual Maintenance Services
CSE Solutions provides:
Emergency Call Out visits (Fixed).
Scheduled Routine/ Preventive Maintenance (Yearly).
The objective of Annual Maintenance Services is to make sure that the equipment is operating as per the specifications and to maximize its availability, reliability, and efficiency.
Being Recognized System Integrators of Rockwell Automation, we can help our clients by leveraging Rockwell Automation's world-class Tech Connect support by adding a virtual team of more than 350 industrial automation specialists to our client's design and maintenance staff.
Our Partners
SCHNEIDER ELECTRIC
CSE Solutions is thrilled to partner with SCHNEIDER ELECTRIC for their Prisma iPM Product and offer the following advantages to our esteemed customers:
Offer IEC 61439 certified Totally Type Tested Panels (TTA).
Functionally optimized to work with Schneider Electric Devices.
Superior reliability and continuity of services.
Reduce the risk of fire hazards and short circuit accidents due to enhanced safety measures.
Rockwell Recognised System Integrator (RcSI):
CSE Solutions is a Rockwell Recognised System Integrator (RcSI). This calls for a mutually supportive, trusted & competent association with Rockwell Automation sales and its distributors.
Having said that, there are several advantages for our clients which come along with CSE Solutions being Recognised System Integrators of Rockwell Automation.
Being RcSI of Rockwell Automation, we can offer the following advantages to our clients:
Highly-qualified engineers who stay abreast of developments in technology.
In-depth understanding of the Rockwell eco-system.
Specialists who understand and consistently follow industry standards.
Tailor-made OEM and End User solutions.
Enabling customers to be more profitable by reducing engineering and commissioning time with the help of seamless integration.
Consistency and coordination that reduces unpleasant surprises for customers.
Improved flexibility and responsiveness to help drive business results.
Rockwell Automation and its partners use each other's expertise.
Receive the best technology available in the industry.
Delivering excellence to customers and stakeholders.
Certified Thinmanager Integrators
CSE Solutions being Certified Thinmanager Integrators, can help our clients harness the power of virtualization technology by securely delivering the right information to the right person at the right time at the right place on the plant floor thereby leveraging Industry 4.0 in true sense.
With the help of Thinmanager, we can help in following ways:
Secure delivery of assets, HMIs, applications and more.
Allow terminals to be replaced within minutes instead of hour.
Offer centralized management with the use of servers.
Allow multi-user access of software on multiple devices or workstations.
Delivery of data and information on different mobile devices securely allowing operators or plant managers to access information from anywhere in he plant.
Real time plant operations can be monitored or even taken control of, if required.
Clients in the plant can be configured to view multiple applications at the same time.
Client redundancy ensures applications always make it to the plant floor.
Control Panel Manufacturer India, | Electrical Control Panel Manufacturer India, | Motor Control Centers, | Automatic Power Factor Correction Panels, | Control Systems Integration India, | Recognized System Integrator RcSI Rockwell Automation India, | Intelligent Motor Control Center, | iMCC Panel, | VFD Panel, | PLC Panel, | PLC Control Panel, | PLC Automation, | Control Systems Engineering, | Electrical Panel Manufacturers, | Motor Control Center Manufacturers, | MCC Manufacturers, | MCC Panel Manufacturers, | Local Control Panel, | PLC Panel Manufacturer, | PCC Panels, | Electrical Control Panel Suppliers, | MCC Panel, | MIMIC Panel, | Automation Control Panels, | Purge and Pressurized Panels, | Flameproof and Explosion Proof Panels, | SIL Safety PLC Systems, | Distributed Control Systems, | IEC 61439 Type Tested Assembly Panels, | VFD Control Panel, | Panel Board Manufacturers, | Electrical Control Panel Manufacturers, | Electrical Panel Board Manufacturers, | Automation Panel, | PLC Programming for Industrial Automation, | DCS Control System
( Certain content is taken from sources, owned by those writers and companies, not propriterary of CSESolutions and we thank those companies for the same)