SCADA and HMI programming along with the design can be an exceptionally powerful instrument to decrease working expenses through diminished downtime, easier maintenance, as it provides more clarity into production trends. Although, when a new automated system is made, most of the times due to demanding schedules, HMI configuration doesn't get proper attention and it is executed just at the end of the project. We at CSE Solutions however believe that there can be a better way to deal with the visualization programming and design so that it can provide a competitive advantage to our clients.
HMI PROGRAMMING & DESIGN – USER-CENTERED
Historically, HMIs have helped in keeping a specific procedure running, letting a plant administrator or manager know whether something was running properly or not? Today, visualization systems are changing from dealing with a procedure to dealing with the business. HMIs should be planned in view of the end client.
To convey an easy-to-use interface, CSE Solutions takes a conscious, proactive, and iterative way to deal with HMI improvement so that it provides applicable data at our clients' fingertips. Starting from a local station level HMI to enterprise level SCADA, we offer scalable solutions that provide a wide range of advantages to a process OEM as well as an end-user.
Being a recognized system integrator of Rockwell Automation, the HMI and SCADA arrangements that we convey incorporates the accompanying highlights: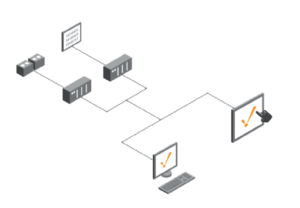 Premier Integration with a controller.
Productivity with the assistance of rich, reusable illustrations and virtualization arrangements.
Alarm Configuration and Management according to ISA 18.2 principles.
Portability for observing systems from anywhere, anytime.
High-performance HMI Graphics complying to ISA 101 standards.