Hazardous Area Control Panel
Purge Panels are solutions for using electrical/electronic devices in hazardous areas containing flammable gases, conductive dust, corrosive gases or combination of all these. In purge panels or pressurized enclosures, positive pressure is maintained inside the enclosure to prevent the entry of any outside gases inside the enclosure, this ensures that the internal devices are protected from hostile & hazardous gases/vapors present in the atmosphere.
Purge Panels can be customized with different enclosure sizes with its specially fabricated IP 65 Enclosures and Pressure Monitoring Mechanism. They work on the principle of prevention of explosion. They are based on IS/IEC 60079-0:2011 and IS/IEC 60079-2: 2007 standards. Purge Panels are supplied with instrument air at sufficient flow to ensure positive pressure build-up inside the panel. The Pressure is maintained inside the Purge Panel through regulatory mechanism along with monitoring and tripping system in case of failure.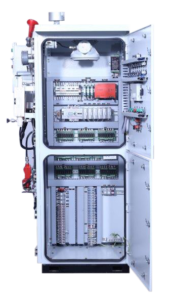 At CSE Solutions, we manufacture Purge Panels for:
Hazardous Gases / Vapors: Zone 1 & Zone 2 Gas Group- IIA, IIB, IIC as per IEC600079-2.
Hazardous Gases / Vapors: Class I, Division 1 & Division 2, Gas Group A, B, C &D as per NFPA 496.
Combustible Dust: Zone 21 & Zone 22 as per IEC600079-2.
Combustible Dust: Class II, Division 1 & Division 2 as per NFPA 496.
Salient features of Purge Panels are:
ATEX/ CCOE/ UL Certified Purging System.
Enclosure MOC-MS Powder Coated/SS-304/ SS-316.
X-Type/ Z-Type / Y- Type Purging System.
No restriction the size of enclosure.
Vortex Cooling Option Available.
Purge Panels for Corrosion Prevention.
Purge Panel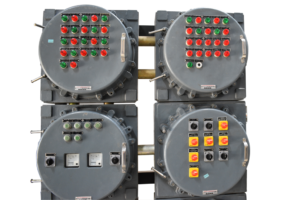 Flameproof or Explosion proof Enclosures are used for safe operation in the hazardous area following IS/IEC 60079-1: 2007 standard. Equipment Protection by Flameproof Enclosures are also denoted by "Ex-d" type panels.
These enclosures are mainly made from Die-Cast Aluminium Alloy. They are economical for smaller size applications. The primary objective of Flameproof panels to be mounted in the field is for Containment of Explosion.
Flame Proof Panel
Salient Features of our Explosion Proof Panels are:
High Tensile Strength.
Ingress Protection of up to IP 66.
Available for Zone 1 and Zone 2.
Gas group IIA, IIB, IIC.
Ex d, Explosion proof, Flameproof and Weatherproof.