Motor Control Panel
MCCs provide the most suitable method for grouping electrical motor control, automation and power distribution in a compact economical package. Essentially they are an assembly to control electrical motors.
CSE Solutions is known for manufacturing and supplying precision engineered Industrial MCC Panels. We don't compromise anything below perfection. We design and manufacture MCCs that have the capacity to feed larger loads, designed as per clients' specifications and complying to international standards.
At CSE Solutions, we have designed and manufactured LV MCCs for over 30 years with the following objectives:
To achieve the greatest possible flexibility, the motor control centers that we offer can be manufactured in different variants capacity of up to 4000A horizontal and 1600A vertical bus.
To provide the users with premium quality and services by designing the MCCs with the highest degree of safety, ease of installation and maintenance, reliability as well as flexibility.
At CSE Solutions, in order to start the motor in a safe way, we reduce the heavy starting current and also provide overload as well as under-voltage protection. Some commonly used starters are:
Direct On-Line.
Star-Delta.
Soft Starter.
Variable Frequency Drive (or VFD).
We also use different types of solid-state motor controllers, analog/digital metering, feeder, fuse dis-connectors, breakers, and other switchgear components while designing the MCC.
Variants
Non-Compartmentalised.
Compartmentalized.
Withdrawable / Removable.
Intelligent MCC.
Compartmental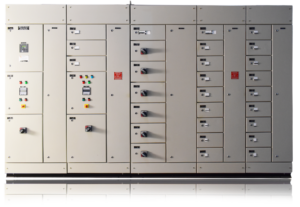 Non-Compartmental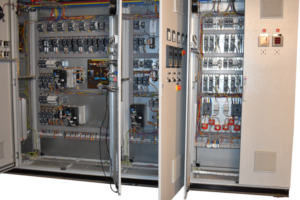 IMCC Panel
Technical Specification:
We offer MCC, iMCC, VFD Panels conforming to the following specifications:
| | |
| --- | --- |
| System | 3 Phase, 3 or 4 wire, 50Hz |
| Rated Current | Upto 5000 Amps |
| Operational Voltage | 230/380/415/440v AC |
| Rated Insulation | 1000v |
| Rated Service Voltage | 690v |
| Ambient Temperature | 45 Deg C |
| Short Time Current | Upto 65KA for 1Sec, 105KA peak |
| Degree of Protection | IP42-IP65 |
| Form of Separation | Upto 3B/4B |
| Type Tested for | Short Time Current withstand Test, Temperature Rise Test Degree of Protection Test |
| Bus Bar System | Interleaved above 3200A |
| Bus Bar | Aluminium or Copper |
| Feeder Configuration | Semi Draw-out Type or Fix Type |
What is MCC and iMCC Panel?
MCC Panel (Motor Control Center Panel) :
Motor Control Center (MCC) is a collection of several components to control the motors with various types of starters like DOL (direct on line) starter, S/D starter (star delta starter), Variable frequency drive (VFD) and other control equipment that all function to control the operation of the electric motor and place these components in an integrated panel.
It consists of feeders for motors, blowers and Pumps. Feeders are designed according to the motor rating. In most of the MCCs, auto/manual provision will be there. With manual provision motors can be operated manually. In auto provision external signal is required to start the motor. The signal is given by the control panel. Indicators for the motor operation also will be present in control panel.
iMCC (Intelligent Motor Control Center) Panel:
iMCC Panel represents the flexible and modular management-system for motors in the low Voltage range which can be easily and directly connected to superior automation system. It covers all functional requirements, including safety-related disconnection of the motor feeder and automation system.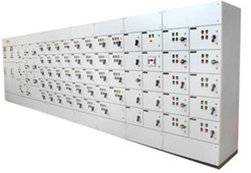 Benefits of MCC/iMCC Panels:
Improved process efficiency.
Reduced space, commissioning and start up time.
Superior motor protection.
Reduced unscheduled downtimes.
Cost effective approach in reducing maintenance and saving time.
Optimized productivity.
Intelligent communication with PLC, DCS and BMS.