Control Systems Integration India
Automation Control Panels
At CSE Solutions (Electrical Control Panel Manufacturer India), we offer complete panel solutions for Automation and Control Systems that includes designing, engineering, manufacturing and commissioning assistance.
Control panels are flat looking, vertical, area where control or monitoring instruments are displayed, it is an enclosed unit, part of a system that users can access, such as the control panel of a security system.
Our Product Range Includes:
PLC Panels.
Remote I/O Panels.
DCS Panels.
Safety Integrated Level (SIL) PLC Panels.
Our Features include:
IP Protection (IP 54, IP 55, IP 65 Panels).
Optional Hazardous Area Protection (with Purging System).
MOC: Powder Coated CRCA Steel / Stainless Steel SS 304 / SS 316 / SS 316L.
Enclosure Make: CSE / Rittal / Hoffman/Eldon.
Floor-Standing/Wall-Mounted/Skid-based Base Mounting Option.
We provide FAT facilities at our premises using state-of-the-art testing equipment so that the complete automation project can be tested and simulated at one place before dispatch. This is recommended to reduce issues at the site during commissioning.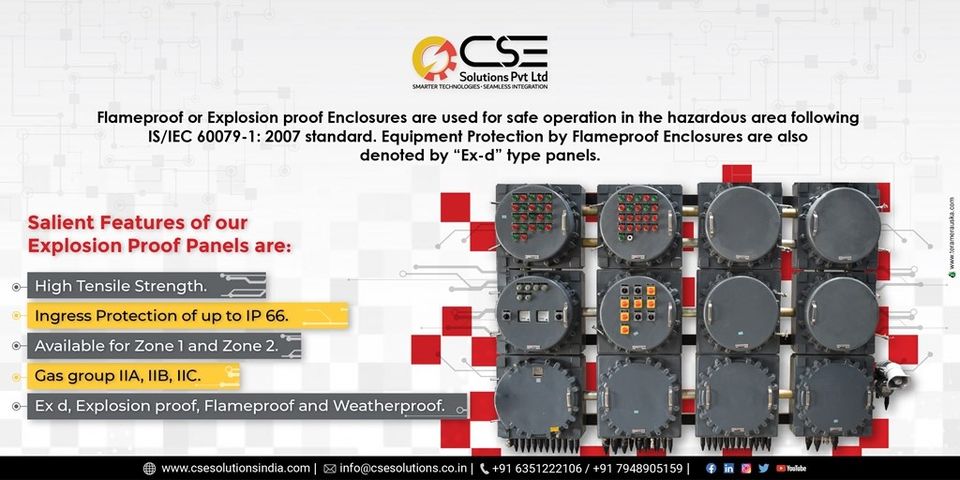 Local Control Panels
We offer Local Control Panels (LCPs) that are easy to maintain and can be directly mounted on frames or skids.
Local control panels are generally there to control the machine or equipment locally or remotely and installed in the close proximity of the controlled device. Junction boxes are an essential part of the electrical wiring systems for homes and buildings alike.
At CSE Solutions (Recognized system integrator RcSI Rockwell Automation India), we have a team of engineers with experience in developing and designing
We use a wide range of enclosures for ATEX Zone and safe area. The enclosures that we offer are fully customizable. We manufacture Local Control Panels (LCPs) with customer-specified sizes, using mild steel, stainless steel or aluminum.
The junction box is an enclosure used for the interconnection of cables between field devices and control room. It encloses terminal strips for cable termination. Junction box shall be designed to suit an environmental condition where the box will be installed and shall have certification of Ingress Protection code as well as hazardous area protection.
Specifications:
Mountable in Safe Area or Hazardous area depending on the requirement.
Protection Class up to IP 65.
MOC- MS, SS, FRP.
Wall-mount as well as floor mount arrangement.
The advantage in choosing CSE Solutions as a supplier is the quick implementation of a tailor-made solution, starting from the design to the certification of the Panel and being able to cater small as well as large companies.
Hazardous Area Control Panel
Purge Panels are solutions for using electrical/electronic devices in hazardous areas containing flammable gases, conductive dust, corrosive gases or combination of all these. In purge panels or pressurized enclosures, positive pressure is maintained inside the enclosure to prevent the entry of any outside gases inside the enclosure, this ensures that the internal devices are protected from hostile & hazardous gases/vapors present in the atmosphere.
Hazardous location panel manufacturing & engineering is a highly-regulated area of controls manufacturing, which demands a manufacturing partner who is thoroughly conversant in the dangerous relevant location standards and capable of consistently hitting all the marks in meeting your project's certification requirements.
Purge Panels can be customized with different enclosure sizes with its specially fabricated IP 65 Enclosures and Pressure Monitoring Mechanism. They work on the principle of prevention of explosion. They are based on IS/IEC 60079-0:2011 and IS/IEC 60079-2: 2007 standards. Purge Panels are supplied with instrument air at sufficient flow to ensure positive pressure build-up inside the panel. The Pressure is maintained inside the Purge Panel through regulatory mechanism along with monitoring and tripping system in case of failure.
At CSE Solutions, we manufacture Purge Panels for:
Hazardous Gases / Vapors: Zone 1 & Zone 2 Gas Group- IIA, IIB, IIC as per IEC600079-2.
Hazardous Gases / Vapors: Class I, Division 1 & Division 2, Gas Group A, B, C &D as per NFPA 496.
Combustible Dust: Zone 21 & Zone 22 as per IEC600079-2.
Combustible Dust: Class II, Division 1 & Division 2 as per NFPA 496.
Salient features of Purge Panels are:
ATEX/ CCOE/ UL Certified Purging System.
Enclosure MOC-MS Powder Coated/SS-304/ SS-316.
X-Type/ Z-Type / Y- Type Purging System.
No restriction the size of enclosure.
Vortex Cooling Option Available.
Purge Panels for Corrosion Prevention.
Flameproof and Explosion Proof Panels
Flameproof or Explosion proof Enclosures are used for safe operation in the hazardous area following IS/IEC 60079-1: 2007 standard. Equipment Protection by Flameproof Enclosures are also denoted by "Ex-d" type panels.
Flameproof Enclosures used, this is for enclosing equipment and control devices, relays, contactors, and/or instruments. Explosion-proof & flameproof have the same meaning in that the item to which , thereby preventing the ignition of surrounding flammables.
These enclosures are mainly made from Die-Cast Aluminium Alloy. They are economical for smaller size applications. The primary objective of Flameproof panels to be mounted in the field is for Containment of Explosion.
Salient Features of our Explosion Proof Panels are:
High Tensile Strength.
Ingress Protection of up to IP 66.
Available for Zone 1 and Zone 2.
Gas group IIA, IIB, IIC.
Ex d, Explosion proof, Flameproof and Weatherproof.
MIMIC & Desk Panel
Mimic & Annunciator panels are being used in the industry for many years to display process status and alarms.
In mimic display or mimic panels the process or flow charts are pictorially represented on the front panel of the Control desk. Mimic panel is a fire and gas purpose panel on which shows a geographical layout of the installation and equipment to represent rapid visual appraisal of any fire and gas hazard.
Generally, mimic displays are printed on polyester or polycarbonate sheets and provided with an acrylic front sheet for protection. LEDs and other Indicators can be fitted on the display for Process Indication.
At CSE Solutions, we supply conventional and mosaic mimics and annunciator panels with MS powder coating, stainless steel enclosures furnished with the internal wiring of Mimic LEDs and Annunciator Windows. We have an in-house team of designers to design the Mimic Display as per our client's process layout.
Our Range:
Mosaic Desk.
Addressable Fire Alarm Mimic Display.
Security Desk Mimic.
Fire Alarm Mimic Panel.
Annunciator Panels with Minilec/Insta-alarm/other make Annunciator Windows.
Combination of Annunciator Window and Mimic Display Panels.
Operator and Workstation Consoles
While designing any desk/console, it is essential to consider human factors and minimize occupational hazards to the operator or user. At CSE, we offer such ergonomically designed customized Control Desks, PC Consoles & Control Room Furniture according to our customer's requirement.
The operator workstation is an internal communication console that can be touch-tapped using a web interface.
Our Range includes:
PC & Server Consoles.
Workstation Consoles.
Operator Desks.
SCADA/ HMI / Monitor Consoles.
Control Desk.
Control Panel Manufacturer India, | Electrical Control Panel Manufacturer India, | Motor Control Centers, | Automatic Power Factor Correction Panels, | Control Systems Integration India, | Recognized System Integrator RcSI Rockwell Automation India, | Intelligent Motor Control Center, | iMCC Panel, | VFD Panel, | PLC Panel, | PLC Control Panel, | PLC Automation, | Control Systems Engineering, | Electrical Panel Manufacturers, | Motor Control Center Manufacturers, | MCC Manufacturers, | MCC Panel Manufacturers, | Local Control Panel, | PLC Panel Manufacturer, | PCC Panels, | Electrical Control Panel Suppliers, | MCC Panel, | MIMIC Panel, | Automation Control Panels, | Purge and Pressurized Panels, | Flameproof and Explosion Proof Panels, | SIL Safety PLC Systems, | Distributed Control Systems, | IEC 61439 Type Tested Assembly Panels, | VFD Control Panel, | Panel Board Manufacturers, | Electrical Control Panel Manufacturers, | Electrical Panel Board Manufacturers, | Automation Panel, | PLC Programming for Industrial Automation, | DCS Control System
( Certain content is taken from sources, owned by those writers and companies, not propriterary of CSESolutions and we thank those companies for the same)